PUBLIC NOTICE
The Conejos County Board of Commissioners is seeking interested individuals that may be willing to serve and represent Conejos County for a three-year term on the Rio Grande Water Conservation District Board.  Applicants should have a broad knowledge of water and its issues in Conejos County as well as the San Luis Valley.  Please indicate all water rights and uses that you are familiar with.   Interested individuals are encouraged to send a letter of interest to the Conejos County Board of Commissioners, Attention Tressesa Martinez P. O. Box 157 Conejos, CO 81129.  All letters need to be in the office by February 28th 2023.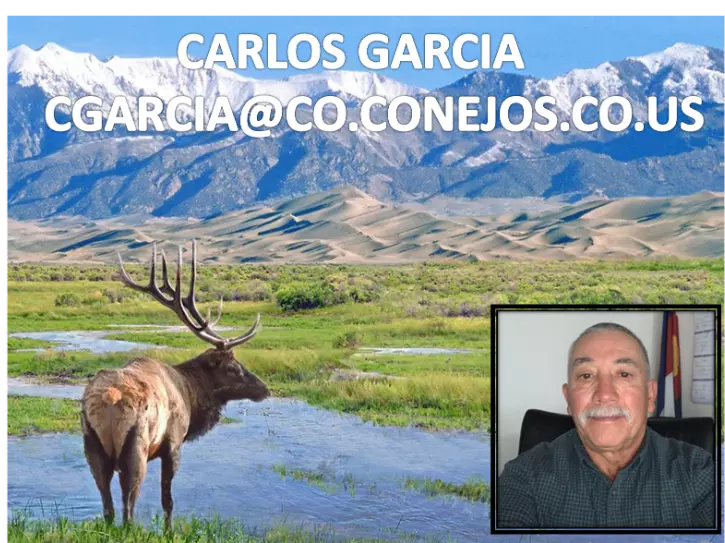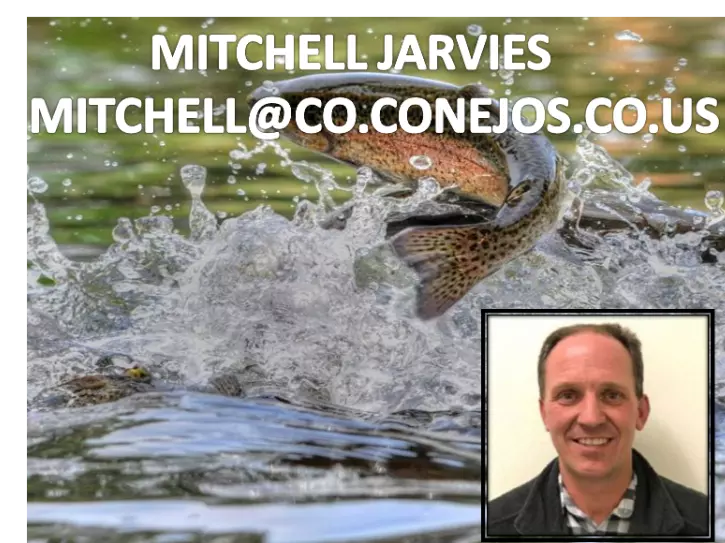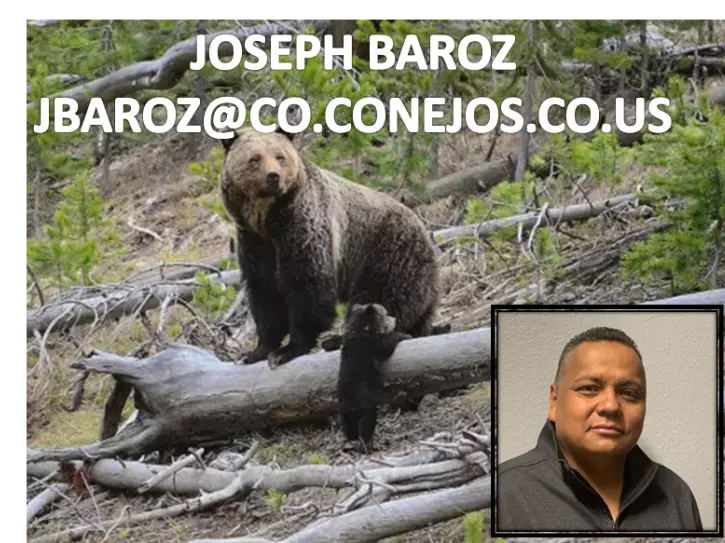 Commissioners Meeting Dates
First and third Thursday of each month

All Special meeting are posted at least 24 hours prior to meeting. Meetings are posted on the window of the Conejos County Courthouse located at 6683 County Rd 13, Conejos Colorado and on the bulletin board at the Commissioners Board Room.
To get on the Commissioner's agenda please call:
Commissioner's Office
(719) 376-5772 - Ext 1
CONEJOS COUNTY COMMISSIONERS
AGENDA
 REGULAR - MEETING
                                                                        March 16, 2023
PLEDGE OF ALLEGIANCE
OPENING PRAYER
9:00 a.m.

Call Meeting to Order

APPROVAL OF AGENDA – Action Item

APPROVAL OF MINUTES - Regular Meeting, 2023

PUBLIC COMMENT

PUBLIC COMMENT

ADMINISTRATORS CORRESPONDENCE
                                                                      Lighting for District 3 - Discussion
                                                                      Lobatos Bridge – Grant Application
                                                                      Court Security - Update                                                                       
                                                                             Garcia House – Update
                                                                             Court House – Telephone
                                                                             WSB – Audit Engagement Letter – Approval
                                                                             Signature
COUNTY ATTORNEY –
   2023 Opioid Settlement Participating Forms – Action
                    09:30   Nick Barela – DSS Report – Action Item
                    09:45   Denise – Public Health/Board of Health Report    
                    10:00   Andrea – Forest Service Report   
                    10:15   Erwin Romero – County Road H – Discussion                                     
                    10:30   Sarah Stober – COG
                    10:45   Donnie – Road and Bridge Report
                    11:00   Jeremy McDaniels – Paving Project Discussion                   
                    11:15   Rodney King – OEM Report
                                    Adoption of the SLV mitigation plan
                    11:30   Nathan – Fox Creek Store Liquor License Renewal     
                                                  1)  Work Session – Commissioners, Administrator
                                                        Funding Discussion
                                                  2)   Work Session - Road and Bridge Donnie and Jeff  
                                                  3)   Work Session -Building Code  
REDISTRICTING ANNOUNCEMENT
OFFICE HOURS
TUESDAY 8:00-10:00
(719) 376-5772 EXT 1